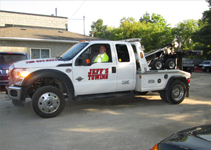 We currently provide 24 hour towing for any type of vehicles. Two flatbed rolloff deck, 3 wreckers and 1 medium duty truck for the bigger, heavier stuff.
All drivers are trained and capable for all jobs by Jeff as well as being CAA certified and some wreck master certified. We provide boosts, unlocks, gas deliveries and towing for all makes and models. We pride ourselves on fast, efficient and damage free services.
Jeff's Towing will take you anywhere with competitive rates. We are just a call away!
Our 24 hour Damage Free Towing Service employs the use of our 2 ton flatbed with wheel lift, a 1 ton recovery truck, plus a variety of other tow trucks, as well as both indoor and outdoor secure storage.
Jeff's Towing offers 24 hour towing service to meet most needs in the Angus – Borden – Alliston – Barrie area, and other places as well. We have five modern tow trucks, operated by highly experienced drivers. These include a flatbed heavy, and several wreckers.  No matter your situation we can usually take care of it! Call us at 705-424-5334. We handle auto club, many types of road side assistance, recovery.
You may not know it but you have the right to decided where your car it towed to and who fixes it. We can look after the repairs as well as the towing, if you want us to. Simply tell us and we will contact your insurance company.
We are part of a family business which dates back to 1958. In addition to 24 hour towing in Angus, Barrie and the above areas, we can provide:

 auto body  & collision repair
 auto glass repair or replacement
 spray on box liners for pickup trucks
 rust proofing to help protect your car from salt damage in the winter
 various mechanic repairs
 detailing / interior cleaning
 short term vehicle storage
 used car sales
 other services