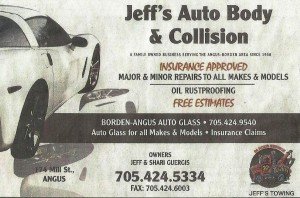 A family owned business since 1958. [In fact part of this early information is copied from an old newspaper clipping of the time period, which is undated and the paper is not identified, but if you like you can still see a framed copy of the article on the wall in the Customer Service area, where it has hung for many years. As a guess the article dates from about 1966. The Title of the article reads: Renault of Canada Announces the Appointment of Sarg's Garage As the
Exclusive
Dealers for Renault Sales – Service – Parts
.
We started out in 1958 under the name Sarg's Garage.  That was the year that Sarg W. Guergis (pronounced 'Georges') built the original building, which was later added on to a few times. We sold gas as a full service gas station under the Sunoco brand name and cars as a Renault dealer. Sarg W. Guergis and Jack W. Munson were partners in business at the garage for 25 years.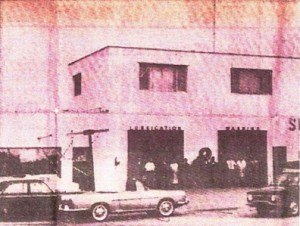 (Sarg's Garage in Angus Ontario around 1958 or shortly afterwards)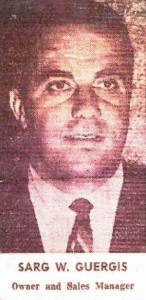 (Picture of Sargon W. Guergis 1930 - 1995)
Sarg W. Guergis, (Born 1930 –  Died 1995) Owner and Sales Manager, was a licensed mechanic with fifteen years of experience in the automotive field, with over eight years in business in Angus [as of about 1966]. Sarg was well known in community projects and for his high standard of business ethics and fair dealings.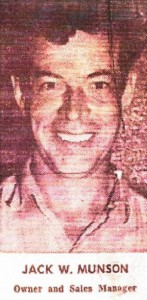 (Picture of Jack W. Munsen)
Jack W. Munsen, Owner and Sales Manager, was a Korean War Veteran, his twenty years as a licensed mechanic behind him in the automotive and allied field. Jack was affiliated in partnership with Sarg for the past six years [written about 1966]. His vast experience assured his customers of the best service at the lowest cost.
Jeff Guergis entered the family business in 1979, taking over the body shop area when it became available, and then branched out into towing. Jeff learned his trade from Fred David who was his partner until he retired in 1985. In 1988 Borden – Angus Auto Glass was added to the list of services offered.
The business was incorporated in Dec 1996 and while it is officially knows as Jeff's Auto Body & Collision Ltd. in practice most people know it by the names:

 Jeff's Towing


 Jeff's Auto Body & Collision; and


 Borden – Angus Auto Glass
In addition to the services suggested in those names it also provides car detailing (interior cleaning) at very reasonable rates, as well as major and minor repairs all makes and models, oil rust proofing, and other services such as repairs to all manor of things. Free estimates.
Jeff's Towing and 24 Hour Service Ltd. now operated five tow trucks, based out of a large building and yard in Angus, Ontario.
The company support the local community in various ways including bring proud supporters of Essa Eagles Minor Hockey, baseball and soccer.
We have been in business for over 34 years!
Jeff's Auto Body & Collision
Phone 705-424-5334
Borden Angus Auto Glass
Phone 705-424-9540
Detailing – Interior Cleaning
Phone 705-424-9540
The current owners are Jeff Guergis & Shari Bowman.
Please visit our Picture Gallery page (under the Jeff's Towing menu item) to see pictures of our business.