Serving the Angus-Borden area since 1958, Jeff's Auto Body & Collision has been at its current location on the main street for over 28 years.
With three licensed technicians and a 4,900 sq. ft. shop, we handle major and minor auto body repairs to all makes and models. We also provide towing service to roadside assistance companies such as PDG, DAA, and CAA as well as the Ontario Provincial Police (OPP). Our close proximity to CFB Borden has also allowed us to provide service to its residents as the Canadian Armed Forces Military Police.
Jeff took over the body shop with a partner, Fred David, in 1979. They operated as Fred and Jeff's Auto Body until Fred retired in 1987. Under Fred's guidance, Jeff learned the trade and was certified at Centennial Collage as a collision repair technician. The business stayed operational when Fred left and was called Jeff's Auto Body & Collision until incorporated in 1996.
The business has grown from a two man operation to a staff of seven. Jeff is the bodyman, collision tech and painter so has help with office and customer service from his longtime life partner, Shari Bowman as well as a full time service manager. The shop has three body techs working along side Jeff to provide the best and fastest repairs possible. We also have four full and part time tow truck operators fully trained and CAA certified.
In the body shop we do rust and dent repairs, plastic welding, minor and major collision repairs to all makes and models. We are also known to have done some antique claw bath tubs as well as many garage and man doors for builders. Motorcycles and big rigs are also regulars as well as custom paint jobs.
We have fully restored many old cars and trucks as well. There is no job too big or too small, we do it all!!
Estimates are free so come anytime, no appointment needed.
Please visit our picture Gallery page (under Jeff's Towing in menu above).
Installed in our shop is a Devilbiss System 2000 downdraft baking booth, a Devilbiss Crossflow spray booth and a s Devilbiss 'Pro Mix" paint mixing booth. These systems are all environmentally approved, and we are proud to be offering the only such system in the area. All compressed air from our 15 hp compressor travels through a series of air dryers that allows for moisture free air throughout the shop, including both spray booths.
To assist in clean, exact and correct repairs prior to painting; we employ two Wedge Clamp frame machines for proper alignment, and a 9,000 lb rotary hoist for repairs to suspension, driveline, and barking systems. In addition, we also use a Euro vacuum system to remove the dust from our air sanders.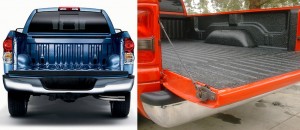 Get a box liner for your pickup truck.
 Durable Urethane
 Attractive Finish
 Prevents Rust
 Sprayed VS Drop In Liners
There are two kinds, spray on and drop in liners.
Once applied, a sprayed on polyurethane pickup truck box liner is watertight, permanently sealing out mildew, rust and corrosion. This will help your tuck last longer and look better. The surface resists scratches, gouges, ultraviolet rays, and the effects of spilled or leaking chemicals. It also suppresses vibration and noise within the truck box.
The sprayed on pickup truck box liner sis applied directly to the walls and floor of the pickup truck box itself, saving space, providing sure footing and increased load stability.
A drop-in liner, however, tends to vibrate slightly, even when tightly fitted, and such continual vibration can cause painted surfaces on the truck box to wear. If moisture and road salt finds it's way between the liner and the surface of the box, which is very likely to happen, corrosion or rust of the pickup truck box is the inevitable rend result. The is could be a costly and completely avoidable repair. For this reason, some manufacturers may void their new vehicle rust and corrosion warranties if a drop in box liner is used.
Unlike spray on liners which will not warp, crack, or split, some drop-in ones are apt to fade, warp, and crack due to exposure to UV rays from the sun. Many drop-in box liners are dangerously slippery when wet. Sprayed on polyurethane pickup truck box liners tend to eliminate these problems.
Spray on pick up truck box liners from Jeff's Auto Body & Collision are resistant to UV rays. Granulated, recycled rubber from car tires is an integral part of the coating mix, providing safe, sure footing and increased load stability.
Added Benefits
Our spray on pickup truck box liners are well suited to truck boxes with fifth wheel installations, as it can be applied after the fifth wheel assembly has been installed. Unlike open cut-outs in drop-in liners, ours will seal right up to the base of the fifth wheel installation, leaving no opening though which corrosion can attack the truck bed surface.
One of the best ways to improve the appearance of older trucks, is the application of our spray on box liner. It can revitalize an older, rusted and scratched truck box, increasing the resale value of the vehicle.
Drop-in liners can create static built-up due to their constant vibration, a dangerous situation when refilling portable fuel containers. There are documented cases of fires and serious injury, death and damage to property resulting from static discharge during the refuelling process. Sprays on liners are much less prone to this type of potential hazard, due to their tight adhesion to the tuck box. (Proper grounding is always recommended during any refuelling process, and gas cans should be refilled on the ground whenever possible.)